People
Staff
The Center for Sustainability is a vital auxiliary unit with the College of Agriculture, Food and Environmental Sciences (CAFES). The primary goal of the Center is to assist the college in its goal to prepare leaders in sustainability through education, research, outreach, and through modeling sustainability through its operations. 

Claire Balint, Interim Director
Claire Balint is the Interim Director for the Center for Sustainability. She received her undergraduate and graduate degrees in Integrative Biology from U.C. Berkeley, specializing in ecology, eco-physiology, neuroethology, and biomechanics. She has taught and conducted research at the Smithsonian Environmental Research Center in MD, the Marine Biological Laboratory in Woods Hole, MA, and the Center for Insect Science at the University of Arizona, Tucson. Since joining CAFES, Claire has been committed to fostering interdisciplinary Learn by Doing opportunities in sustainable agriculture, with a holistic approach to the 'triple bottom line' - environmental, social and economic sustainability. Claire is thrilled to be part of the Cal Poly community and is devoted to helping Cal Poly's students gain the skills and knowledge they need to meet today's most pressing challenges. 
Hunter Francis, Founder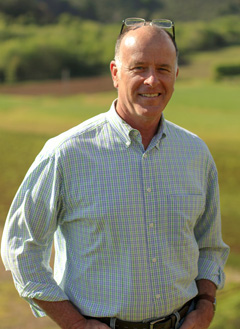 Hunter Francis is founder of the Center for Sustainability in the College of Agriculture, Food and Environmental Sciences (CAFES) at Cal Poly – San Luis Obispo. He holds an M.S. in Agriculture with a specialization in Soil Science from Cal Poly. As part of his master's work, Hunter developed Cal Poly's Organic Agriculture course, the Cal Poly Organic Farm and Sustainable Agriculture Minor. He has helped develop numerous community and continuing education workshops and conferences. Most recently, this has involved the development of programs for large-scale composting, artisan food production, veteran training in agriculture, and soil health. He previously worked in the whole foods movement and has been active in the local community to strengthen regional agricultural systems. As board president of Central Coast Grown, he helped to establish SLO City Farm and its educational programs for the general public.  
We are honored to have some of California's leaders in agriculture and natural resource management providing guidance on Center activities. 
Renata Brillinger: Executive Director, California Climate and Agriculture Network
Rafaela Crevoshay: President, AgSustain
Robert J.Hrubes: Executive Vice President, Emeritus, SCS Global Services
Tim Lichatowich, Consultant, BioAg Product Strategies
Joe Mullinax, Director, Denele Analytical, Inc.
Dan Noble, Executive Director, Association of Compost Producers
Gena Nonini: Owner, Marian Farms
Nikki Rodoni Cossio: Founder and CEO, Measure to Improve
Tim Stemwedel: President, California Organic Fertilizers, Inc.
Taryn Wolf: Produce and Floral Coordinator, Whole Foods Market
Jean-Pierre Wolff: Owner and Vintner, Wolff Vineyards 
 
Related Content