News
To view a list of upcoming events, please go to our ANNOUNCEMENTS PAGE
 
CAL POLY HOSTS 2ND AVOCADO GROWERS SEMINAR
August 2023 - Thanks again to our partners at the California Avocado Society and UC Cooperative Extension, Cal Poly hosted its second Avocado Growers Seminar, this time LIVE in the field. With an amazing lineup of speakers and an awesome group of seasoned and beginning growers in attendance, we had a great time exchanging tips and information. The event was comprised of the following topics and speakers:

Moderators:
Ben Faber, UC Cooperative Extension
Claire Balint, Cal Poly Center for Sustainability

Topics and Speakers:
   * Biocontrol/Pests - Brett Chandler, Associates Insectary
   * Healthy Soils - Charlotte Decock, Cal Poly
   * Advanced rootstock selection trial - Lauren Garner, Cal Poly
   * Organic Certification - Matt Grieshop, Grimm Organic Center, Cal Poly
   * Pruning Strategies - Blake Petrucci, Mission Produce
   * Irrigation/Fertigation Injectors - Johnny Rosecrans, Cal Poly

For more information about the California Avocado Growers Seminar Series, please visit:  https://californiaavocadosociety.org/seminars.html
 
SLO COUNTY POISED TO BE A LEADER IN CLEAN ENERGY AND CLIMATE ACTION
June 2023 - San Luis Obispo County is setting the stage for continued investment in emerging climate smart technologies, industries and farming techniques – and Cal Poly students are getting involved, reports the SLO Tribune. "This is kind of a call to arms," said Claire Balint, the director of Cal Poly's Center for Sustainability. "… to students who say, 'I want to do climate action, but I don't know where to start.' Well, you can start here in the soil science department at Cal Poly and… you can actually be working directly in climate action." Thanks to Joana Taveras, AAAS mass media fellow, and Mackenzie Shuman, Environment and Education reporter for the SLO Tribune, for spotlighting us. To read the full SLO Tribune article, please visit:   https://news.yahoo.com/slo-county-poised-leader-clean-123000273.html 
 
CDFA ANNOUNCES AWARDS FOR CLIMART-SMART DAIRY RESEARCH PROJECTS
June 2023 - The California Department of Food and Agriculture (CDFA) has awarded $4.1 million in grant funding to three research projects as part of the California Livestock Methane Measurement, Mitigation, and Thriving Environments Research Grant Program (CLIM³ATE-RP). One of the awardees is Bubbleology Research International for the project titled, "Evaluating the New, Smart, Climate-Friendly California Dairy: Measuring the Climate and Environmental Air Emissions Footprints of Improved Manure Management Practices." Cal Poly will be partnering with Bubbleology on the project to verify the greenhouse gas and environmental co-benefits of climate-smart practices on California dairies. To read the full press release,
please CLICK HERE 
 
SEVEN CAFES STUDENTS RECEIVE SCHOLARSHIPS TO ATTEND ECOFARM CONFERENCE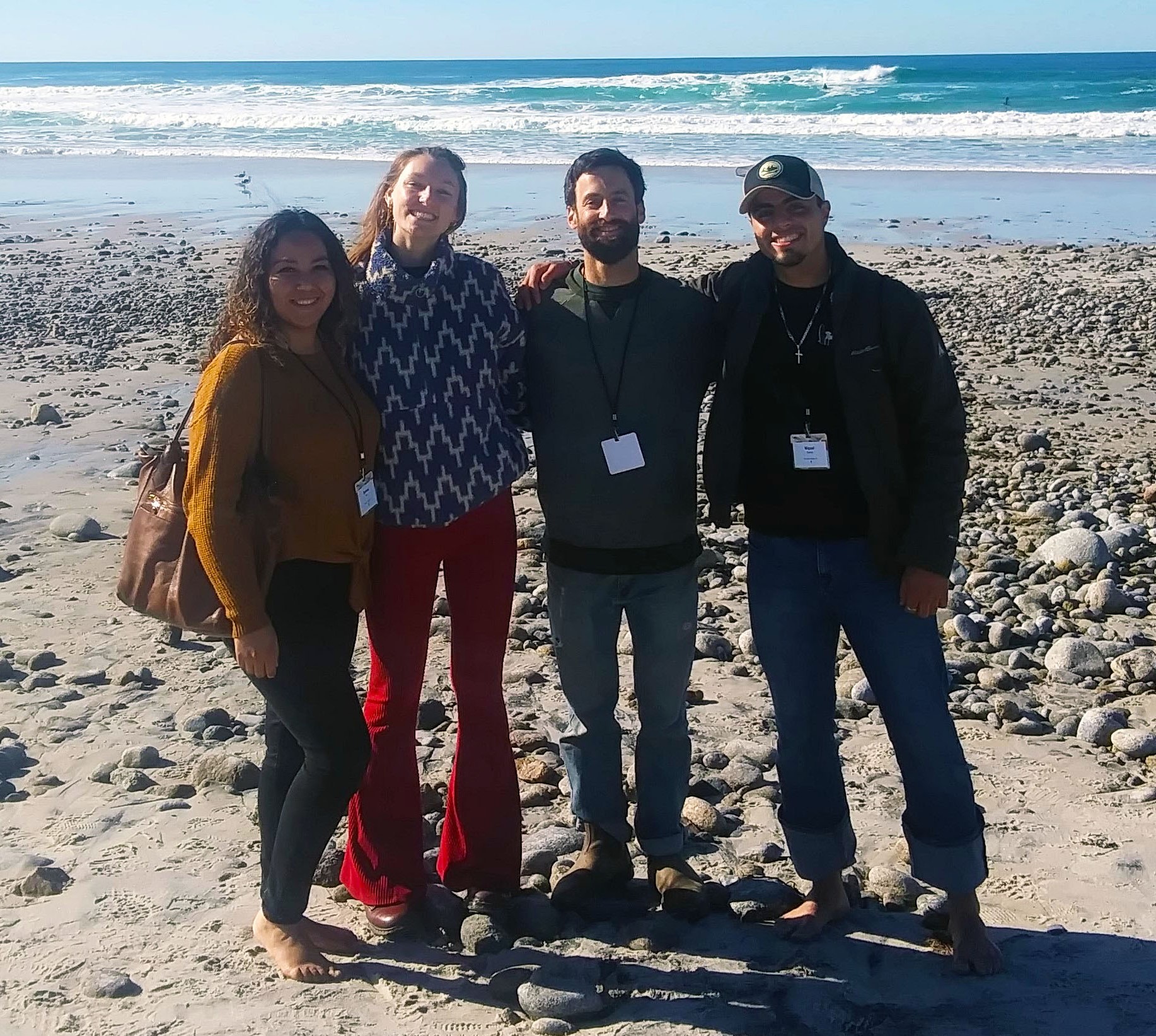 January 2023 - Congratulations to the outstanding graduate and undergraduate students who received scholarships from the Center for Sustainability to attend the 2023 EcoFarm Conference at the Asilomar Conference Grounds in Pacific Grove, CA. Here are some of the things they had to say about the experience:
Darlene: "EcoFarm was such an amazing experience. I came back feeling so motivated, inspired, and ready to get to work! I am especially grateful for the connections I was able to make. I also came back with a wealth of knowledge that I was able to put into practice in my classroom. I hope other students can experience this as well in the future."
Brandon: "I was able to network with amazing ecological farmers and educators from diverse backgrounds. I also was exposed to new topics in food sovereignty for indigenous cultures, perennial grains, and tons of other interesting and inspiring stories in restoration and agriculture. And the cherry on top was the lo
cation!"
Audrey: "It was just amazing hearing what so many wonderful people are doing for soil and for agriculture and inspired me to research more and think about what I want to do in my life."  
Thanks to the Cal Poly Instructionally-Related Activities (IRA) Program for helping make these scholarships possible.
  
CAFES RECEIVES $39.5 MILLION FOR CLIMATE SMART INFRASTRUCTURE & EDUCATION
August 2022 - Cal Poly's College of Agriculture, Food and Environmental Sciences (CAFES) was awarded $39.5 million in one-time state funding to build long-term stability for food, forestry and agricultural systems in the face of intensified weather events and changing climate patterns. The funding will assist in providing the infrastructure needed to build programs to teach future generations sustainable agriculture practices. To view the full press release, please CLICK HERE

AGRICULTURE COMMUNITY INVITED TO PARTICIPATE IN CAL POLY PROJECTS
January 2022 - Two new projects at Cal Poly will involve participation from multiple stakeholders within the agricultural community to develop strategies addressing critical issues in sustainability. 


Dr. Mike McCullough of the Agribusiness Department and his colleagues will be convening meetings in 2022 to identify technically and economically feasible alternatives to agricultural burning in the San Joaquin Valley as part of the California Clean Biomass Collaborative.  To learn more about the project, please download the presentation from the 2021 California Bioresources Alliance Symposium HERE 
 
Dr. Nick Babin of the Natural Resources Management and Environmental Sciences Department has developed a method for transforming downscaled climate information from the publicly available Cal-Adapt database into useful and useable climate projections for vineyard and orchard managers and advisors.  To view an instructional video on how to generate a local-scale climate projection, please CLICK HERE

2022/2023 CAFES EXPERIMENTAL FARM MANAGER  
The Experimental Farm Manager for this year is masters student Brandon Hurd.  Brandon has hit the ground running, and is working on developing an agroforestry demonstration area and welcome garden at the Farm.  He will be the point of contact for Cal Poly students interested in starting a project or getting involved at the Experimental Farm. You can learn more about Brandon's various projects at his website The Ecologist Cowboy.com.  To learn more about the CAFES Experimental Farm, please CLICK HERE 

VIRTUAL AVOCADO FIELD DAY RECORDING AVAILABLE
April 2021 - Thanks to the California Avocado Society, UC Agriculture and Natural Resources, and all our wonderful speakers, we had an informative and entertaining event full of lively discussions.  Video recordings of the entire event, or individual presentations, are available via our
Virtual Avocado Field Day Website. 

 
ORGANIC FARMING BASICS ONLINE TRAINING NOW AVAILABLE
September 2020 - Farmers who want to learn organic production practices for California specialty crops can now get training at their convenience on their own computers. The organic farming training is designed by the UC Sustainable Agriculture Research and Education Program (UC SAREP), Organic Farming Research Foundation (OFRF) and California Polytechnic State University in San Luis Obispo. The program provides a combination of written content, videos and do-it-yourself exercises that allow students to follow along at their own pace and test their grasp of the knowledge. Farmers may read or view any parts of the course they choose, in any sequence. No certificate or credit is given at completion. The organic farming training is free. To obtain a link to the training, submit a request at https://ofrf.org/programs/education/ 
 
CFS PARTNERS WITH CCI & SWANTON PACIFIC RANCH TO DRAFT CARBON FARM PLAN
November 2019 - The Center for Sustainability, together with the Carbon Cycle Institute (CCI), the Resource Conservation District of Santa Cruz County, and Swanton Pacific Ranch (SPR), has developed a Carbon Farm Plan for the organically managed acreage at SPR. A Carbon Farm Plan evaluates and quantifies how on-farm practices can sequester carbon while providing other environmental co-benefits such as increased on-farm climate resilience, soil health, and farm productivity. Special thanks to Jacobs Farm del Cabo for collaborating with us on the project. To learn more, please CLICK HERE

CCI and CFS will plan to hold Carbon Farm Planning workshops starting in fall of 2021. To receive notifications, please join the Carbon Farm Planning Google Group:
carbon-farm-planning@googlegroups.com
 
CAL POLY RECEIVES GOLD RATING FROM AASHE STARS SUSTAINABILITY PROGRAM
October 2019 - Cal Poly has earned a STARS Gold Rating in recognition of the university's sustainability achievements. The Sustainability Tracking, Assessment & Rating System, or STARS, measures and encourages sustainability in all aspects of higher education — including academics, engagement, operations, planning, administration, innovation, and leadership efforts. The STARS program also recognizes achievements in the university's student research, diversity and inclusion, and carbon offset programs. Cal Poly is now ranked third within the Cal State University system, close behind CSU Chico and with CSU Northridge in the lead. Read the full press release HERE

CAL POLY TEAM AWARDED 2019 DEMONSTRATION GRANT FROM CDFA HEALTHY SOILS PROGRAM
August 2019 - A team of Cal Poly researchers has been awarded a second grant from the California Department of Food and Agriculture's (CDFA) Healthy Soils Program. The project will involve trials with various cover cropping practices, and will take place at the Cal Poly lemon orchard and the BeeSweet Citrus orchard, both in San Luis Obispo. The research team includes Cal Poly faculty and staff Charlotte Decock, Nicholas Babin, G.W. Bates, Craig Stubler and Johnny Rosecrans. Agricultural professionals will be invited to take part in demonstration field days organized by the Center for Sustainability beginning in winter 2020. 

CAL POLY FARM FEATURED IN NEW ONLINE TRAINING PROGRAM
August 2019 - The Organic Farming Research and Education Foundation (OFRF) has announced the release of the first learning module in its online organic farming training series. This open educational resource is a joint effort between OFRF, the UC Sustainable Agriculture Research and Education Program (UC SAREP), and California Polytechnic State University in San Luis Obispo.

The Organic Soil Health Management learning module features demonstration videos on Organic Composting Practices by Kevin Piper, Cal Poly Ag Operations Director, and on Cover Cropping in Organic Systems by Dr. Ashraf Tubeileh, faculty in the Cal Poly Horticulture and Crop Science Department.  

CFS RECEIVES GENEROUS GIFT FROM CLIF BAR FAMILY FOUNDATION
September 2018 - The Clif Bar Family Foundation has provided funding to advance two cross-disciplinary programs at Cal Poly: the Center for Sustainability (CFS) within the College of Agriculture, Food and Environmental Sciences and the Center for Innovation and Entrepreneurship (CIE) within the Orfalea College of Business. The contributions reflect the Company's commitment to entrepreneurial initiative, environmental quality, and organic farming. The gift to CFS will be used over the coming year to support our Soil Health Dimensions online educational series and initiatives for organic agriculture. As CFS Director, Hunter Francis, notes, "We are especially grateful for our partnerships with forward-thinking companies such as Clif Bar, which over several decades has provided consistent leadership in advancing sustainability within the food and agricultural sectors."

CAL POLY TEAM AWARDED 2018 DEMONSTRATION GRANT FROM CDFA HEALTHY SOILS PROGRAM 
February 2018 - An interdisciplinary team of Cal Poly researchers and Central Coast vineyards has been awarded a three-year, $200,000 grant from the California Department of Food and Agriculture (CDFA) Healthy Soils Program to demonstrate the potential for vineyard soils to capture and store carbon through the use of appropriate land management practices. The research team will be led by Drs. Cristina Lazcano and Charlotte Decock of the Natural Resources Management and Environmental Sciences Department (NRES) at Cal Poly, and will include Dr. Bwalya Malama and Craig Stubler of the NRES Department, Dr. Jean Dodson Peterson of the Wine and Viticulture Department, and Dr. Ashraf Tubeileh of the Horticulture and Crop Science Department. The project will also include an extension and outreach component which will be coordinated by the Cal Poly Center for Sustainability and the Vineyard Team.

The Healthy Soils Demonstration Project was inspired by Cal Poly's industry partners who are seeking information about the benefits of management practices for soil health. The study and associated workshops will take place at J. Lohr Vineyard and Tablas Creek Vineyard, both in Paso Robles, CA.  J. Lohr Vineyard will serve as the demonstration site for composting practices, and Tablas Creek Vineyard as the demonstration site for no-till practices. Agricultural professionals will be invited to take part in demonstration field days at these participating vineyards beginning in fall of 2018.

SOIL HEALTH FIELD DAYS SERIES COMPLETED THANKS TO SARE
June 2017 - Thanks to everyone who participated in our three tailgate-style, on-farm workshops as we learned about innovative assessment and management strategies for soil health in California. Special thanks to Dr. Alan Franzluebbers (USDA-ARS) and Ken Oster (NRCS) who presented at our Cal Poly SLO workshop; Joe Mullinax (Denele Labs), Zahangir Kabir, Tony Rolfes and Sid Davis (NRCS) who presented at Macon Seed Farm in Turlock; and Judith Redmond and Paul Muller who presented and hosted us at beautiful Fully Belly Farm in Guinda. 

APLU RELEASES 'CHALLENGE OF CHANGE' REPORT
May 2017 - The Association of Public and Land-grant Universities (APLU) has released its report entitled 'Challenge of Change: Harnessing University Discovery, Engagement, and Learning to Achieve Food and Nutrition Security" addressing critical challenges for the global food system and the role of universities. Center director Hunter Francis contributed to the report as a member of the Supply Chains, Distribution, Loss, and Waste work group, and continues to participate in the dialogue as a member of the Inter-institutional Network for Food, Agriculture and Sustainability (INFAS). To learn more about the Challenge of Change initiative and download the report, please CLICK HERE
 
Related Content